Dear MoveOn member,
We're putting the finishing touches on our
Official 2014 Member Priorities report, and we're still missing an important voice—-yours.
Are you more focused on taking back the House or defending the Senate in 2014? Do you have a favorite presidential candidate in 2016? What's your top priority issue that you want to organize on this year?
We'll be tallying the results on Monday at 12 p.m. Eastern
in order to report back our priorities ahead of Tuesday's State of the Union address.
Will you take three minutes to fill out this important member survey?
Click here
: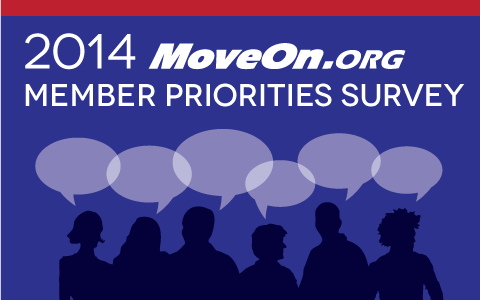 After we get all the responses, we'll put together a report on MoveOn members' priorities and share a copy of it with the White House, congressional leaders, and the media before the State of the Union address—so they know what progressives are focused on as we kick off 2014.
Of course, every MoveOn member will get a copy as well.
Thanks for all you do.
–
Ilya, Eric, Maria, Matt B., and the rest of the team
Want to support our work? We're entirely funded by our 8 million members—no corporate contributions, no big checks from CEOs. And our tiny staff ensures that small contributions go a long way. Chip in here.
---
PAID FOR BY MOVEON.ORG POLITICAL ACTION, http://pol.moveon.org/. Not authorized by any candidate or candidate's committee. This email was sent to eddie alfaro on January 25, 2014. To change your email address or update your contact info,
click here
. To remove yourself from this list,
click here
.